Just the Gubbins® Con Carne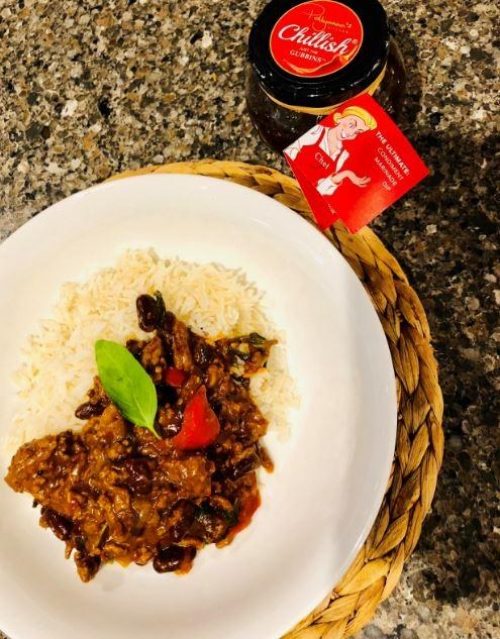 This recipe is full of flavour and packs a punch. Simply serve on a bed of fluffy white Basmati rice and a large dollop of sour cream.
Serves 4
Ingredients:
500g Lean Beef Mince (10-15% fat)
2 tbsp Just the Gubbins®
400g Can of red Kidney beans
1 large Onion
1 large red pepper cut into strips
2 tbsp oil
3 tbsp Tomato Puree
1-2 tsp Salt & black pepper
1 tbsp flour
150ml Red Wine
100ml x Beef Stock
Large handful of fresh Basil leaves (save 4 leaves for garnish).

Method:
On a high heat, fry the Beef in batches, until browned, then remove and set aside to rest.

Lower the heat and add the oil and diced onion to the pan.

Once the onions are translucent and sweet smelling, re-add the beef, together with the wine and stock.

Turn the heat up and simmer for 2 minutes.

Then, lowering the heat again, stir in the flour, Just the Gubbins®, Red Pepper, Tomato Puree, salt and pepper.

Simmer on a low heat for 40 minutes covering loosely with a lid.

When the mince is tender and the sauce is thick, add the drained kidney beans and chopped basil.

Simmer for a further 20 minutes.
Note – Good quality mince is important for this dish! You can add more or less Just the Gubbins® depending on how hot you like your food.